Working remotely means the Botpresso family rarely gets time to physically interact amongst themselves. Well, our first offsite meeting gave our employees the opportunity to link up without the veil of a computer screen. Here goes a breakdown of long walks, pool games, and binge eating that characterized our overall stay at the Fariyas Resort, Lonavala.
Hey…you look different!
That's the first reaction most of us elicited upon meeting the first time. Our boss, Nitin Manchanda, looked more chill and easy-going than he wills to show behind a computer screen. His unarming smile and ability to connect with a team of employees he was meeting for the first time set the tone for the entire meeting.
Roopesh, an SEO Manager, simply won the "You Look Different' trophy hands down. Perhaps, we all looked different but everyone agreed that he should stop using virtual masked faces. For instance, his biceps don't tell the tale of someone who spends time working behind a laptop. The physique could envy that of a gym enthusiast. He shouldn't appear like this; computer nerds can't be this fit.
Fellow SEOs, how do you maintain a fitness schedule?
The robots.txt file analysis and other tasks, in my book, count as enough exercise.
Cut from the same cloth
Despite working remotely from different parts of the world, one couldn't tell the difference because of the evident chemistry and passion for shared interests. It speaks volumes about the hiring criteria in the company and the overall organizational culture cultivated. John, the content strategist, was coming to India for the first time but in his kurta, one could be forgiven to think he was a local resident. 
The apparent kindness, curiosity, and understanding of SEO made the offsite meeting an extension of our everyday lives.
We Love our Brand Merchandise 
In line with our vision to become a globally-recognized brand, we've some cool merchandise exclusive to our staff and people who share in our vision. 
For years, most of us only saw other brands launch their merchandise but this marks the beginning of something new. Different. Botpresso wants to make SEO cool but also wishes to let everyone who engages with us see how knowledgeable we are in our merchandise. Yes, they have got that effect! 
Where's the lie? Look at these pictures and appreciate the art, poise, and ambition.
Everyone … Let's Eat!
For a moment, Indian food felt overwhelming. Some of our employees silently marveled at the sheer level of abundance. None of our appetites could cope with the variety and diversity of foods on offer. It's not surprising that it's hard to give names to the foods.
Dear reader, the food was a lot; and tasty.
Some of the employees put on a pound or two for the two days spent at the resort, and their sagging cheeks told the story.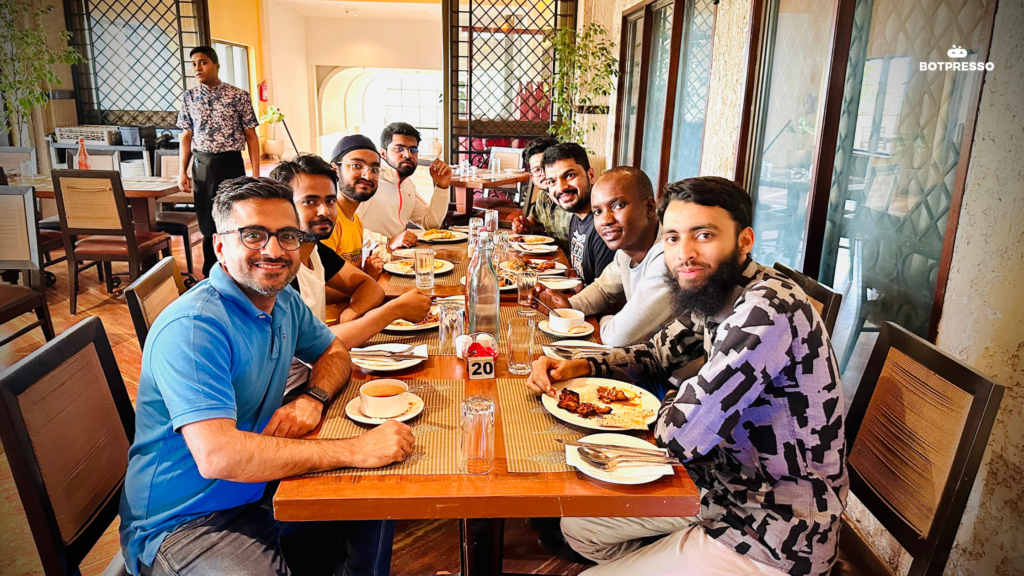 Pool Games & Long Walks
India feels hotter than most parts of the world but this did not dampen the Botpresso family from engaging in heated pool games. With the risk of sounding monotonous, our boss outdid everyone else with his swimming skills. Getting paired with him to chase the rest counted as a bonus due to the fast rise in organic traffic for victims of his swimming agility. Those unable to swim dearly held to the edges of the swimming pool walls and missed out on all the fun. It mattered less so long as everyone felt valued and part of the Botpresso.
Plus, in our swimming exploits, a group of guests from Norway got drawn to our games. In SEO terms, our company acquired backlinks from the quality and organization displayed on our site.
The icing of the offsite was taking a punishing but refreshing walk to the renowned Karla Caves. People from all walks of life congregated here to witness this unique historical artifact. Natheem, Siddhant, and Jaspreet particularly struggled to keep pace with the rest of the team. However, this takes nothing away from the awesome work they undertake at Botpresso.
Whenever you get an opportunity, kindly take time to visit the Karla Caves, soak in the sweat, enjoy the sweet scents from visitors coming from the temple, and let your feet get massaged by the soothing rocky floor inside the caves. The feeling is unforgettable!
Cultural Exchange, Talks, and Laughs 
Jaspreet, our WordPress guru, brought to the meeting with his effortless humor and love for jokes. In the comfort of our hotel rooms, while playing 'Mafia', we chatted away about our experiences living in different parts of the world. 
A few songs and dances were shared, plus a few curse words too. In our endeavor to accommodate each other, we realized how little we know about the world, and how big the universe is. The offsite meeting opened our eyes to the limitless possibilities of what happens when people come together. In our case, it was simply magic! 
John, our Kenyan guest, learned a few Punjabi songs to take home. In the coming years, Botpresso aims to be a hotbed of SEO talents across the world. 
Happy Birthday, Kunjal
While celebrating the offsite meeting, we had the opportunity to wish the pioneer employee a happy birthday. In this life, celebrating getting older is an understatement. Now, celebrating it amongst peers and brothers makes it even better. 
To Kunjal, we all wish you the very best, and may you blow out more candles.
Snap! Snap! Snap!
How then can we forget to document these memories with images that tell a tale? Here's a collection of some of the photos we took during the offsite meeting.
Thanks to all strangers who never tired of our endless requests for a cameraperson.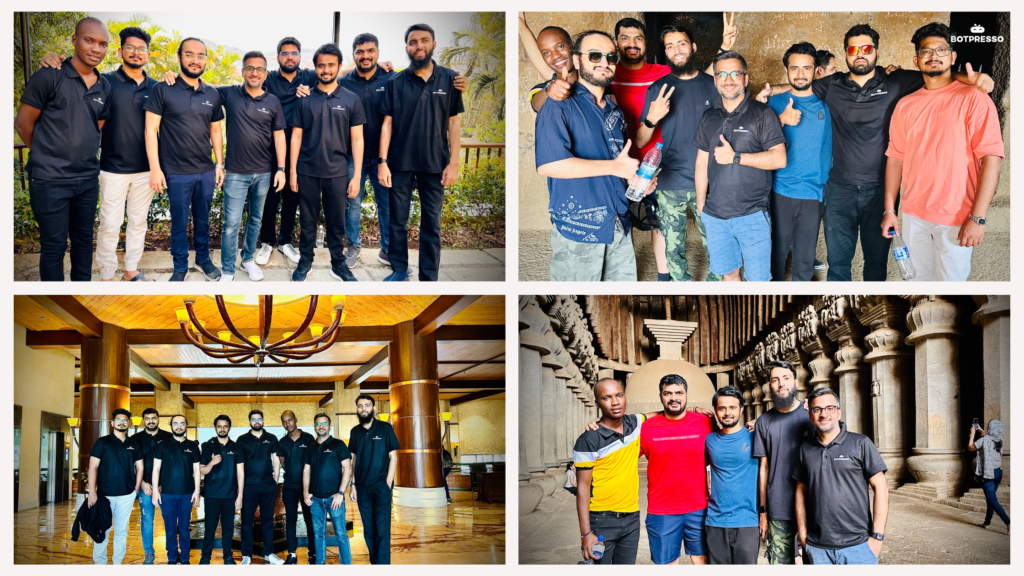 Bigger and Better
Botpresso wants to maintain the momentum not only in SEO Consultancy but also in creating an enabling and accommodating environment for anyone willing to buy into our vision. Instead of benchmarking, Botpresso wishes to be the standard. It's an unstoppable journey.
Getting to the top takes multiple hands, approaches, and collaboration. It's our single most pleasure to count on friends and peers in India and beyond to help actualize our vision.
Shoutout to everyone who shares, believes and wills to commit to this vision.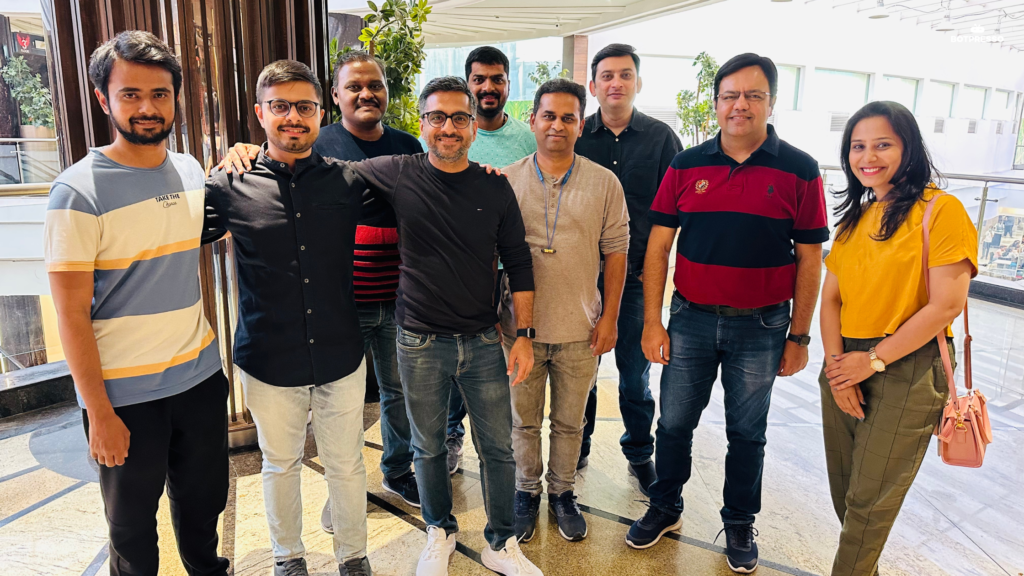 We will be back!
As Arnold Schwarzenegger always says, we will be back.
That's not a prediction. It's a spoiler.
Safe to say all Botpresso employees had the time of their lives.
Much appreciation for Nitin and the management for making SEO both fun and interactive. The UX among the employees got an audit and we look forward to the next!