D2C is all the rage in India. More and more D2C startups keep coming into the fold & getting startup funding worth millions of dollars.
D2C E-commerce solves the popular problem marketplaces couldn't solve hence their resonance even with the customers.
In fact, in the past 5 years, the search demand for D2C has risen dramatically.
Now coming back to the case study. 
Learn the challenges we faced for this D2C brand & the solutions that elevated them to the next level.
Challenges


An apparel brand selling ethnic wear women's dresses and competing in a highly competitive market. Their basic SEO hygiene was out of place, ineffective & was mostly only ranking for the branded keyword cluster.
Our objective 
Improve non-branded organic visibility for collection pages & tap informational intent keyword clusters to position their brand in the market.
Solution:
1. Fixing the Shopify Canonicalised Inlinking Problem
Shopify has a Technical problem that generates two versions of Product Landing pages; the canonical version & canonicalized version.
Now the canonical link is a hint for Google. However, Google may not necessarily respect & end up indexing the canonical version.
As a result canonical might not get indexed and canonicalized would be indexed or both and apart from that, an Index bloat issue occurs. The most critical issue that takes place is an overflow of non-indexable internal linking problems.
The crawl budget gets wasted.
We changed the theme.liquid code wherein Collection pages were now internally linking to the canonical version of the product page instead of the canonicalized version of the product page.
It helped us improve crawl efficiency & indexation of the product pages on SERP.
2. Meta Tags Optimization


This was a low-effort but high-impact activity we undertook. In this activity the KPIs gauged included:
CTR Improvement

Clicks Improvement
Both collection pages & product pages weren't using a transactional modifier in the meta title tag; the most important On-Page element which appears as a blue link on SERP.
We used Plug-in SEO, a Shopify App that helped us implement the meta title tag template for both Product Pages and Collection pages.
The meta title tag would plug modifiers like "Buy" and "Shop" at the beginning of the meta tags.
After completing the activity, it took some time for indexation of the new meta title tag on SERP (some didn't) and as anticipated, this led to an increase in CTR & Clicks.
3. Cleanup & creating searchable versions of collection pages

The website had lots of duplicates or near about the same collection pages resulting in keyword cannibalization.  
A Screaming Frog crawl revealed all the duplicate page instances on the website. Next, we built a consolidation & redirection plan to clean the duplicate collection pages via consolidation & HTTP 301 redirection.
Another problem solved was lots of collection pages having ambiguous names. They were named ambiguous from branding & paid campaign perspectives. This is understandable because this is how a D2C brand can distinguish itself in a competitive market.
So instead of renaming those branded collection pages, we created a searchable version of those branded collection pages (think of it like creating a clone)
4. Content Optimization on Collection Pages


Content on Product Category Pages is a low-hanging fruit opportunity that (shockingly) most e-commerce websites don't leverage including our client's website.
We built content briefs for all the collection pages & added search engine-optimized content below the products. Consequently, we improved keyword rankings for the targeted keywords for the collection pages.
5. Header Navigation Menu revamp

The problems with the header navigation menu
Omitted some competitive collection pages that should have been linked

No segregation in place for types of dropdowns

The header menu was very campaign centric in nature
We introduced one header menu drop-down called "Clothing" linking to the main types of clothing collection pages.
We could have covered all omitted collection pages in the header menu but we came up with a better approach for this. More on that in the next point.
6. Related Collection Internal Linking Approach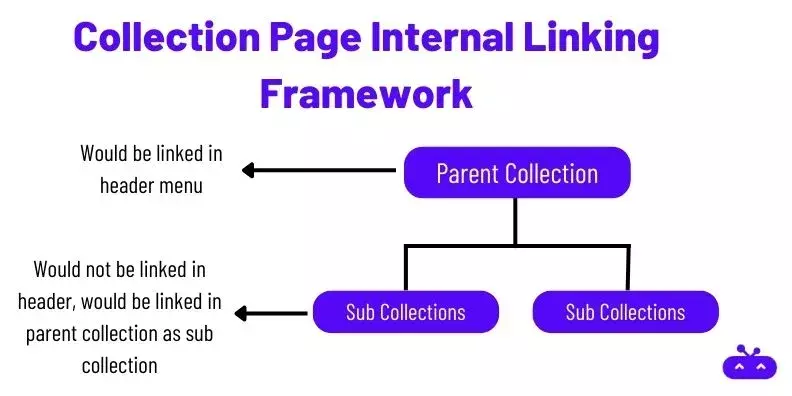 This internal linking strategy was drafted keeping in mind the user flow & how bots would go about discovering the relevant collection pages on the website.
Maintaining a clean & minimalistic header navigation menu required keeping only parent collection pages there. Once the user/bot access that page, from there they can discover the related collection & related collection page link also becomes a contextual internal link.
7. Blog Content Strategy
We took a closer look at the kind of collections & products they had & came up with blog topics relevant to their niche & easy to tap.
As an outcome, the blog posts ranked faster.
We added 5.1K organic traffic via blogs alone.
As of today, 110 keywords for blog posts are ranking in the Top 10 positions.
What do the overall results look like?
This is how the organic traffic journey looks like for the last 6 months.
Started with 3,595 organic users and made it to 9,431 organic users. That's an organic traffic improvement of 162.33%.
Recommended Read: Shopify SEO Guide