(Note: You are about to read a case study shortlisted as the finalist at the Global Search Awards 2023!! Happy Reading)
Campaign Start: January 2022 
Campaign End: April 2023
If you're in a hurry, here are the results delivered from the data-driven SEO campaign: 
Increased Organic Sessions by 406.2%

Increased Organic Users by 394.0%

Increased Keywords Ranking in the Top 3 Positions by 49.5%

Increased Keywords Ranking between 4th and 10th Positions by 54%

Organic Revenue Increased by 1081.24%
The Brand and the Objective
Headout, a prominent player in the competitive travel industry. (Total Funding Amount $57.7M)
Headout, partnered with Botpresso to enhance their online presence and achieve ambitious goals of increasing organic traffic and revenue by 200%.
Target Audience
Headout's target audience comprises travelers seeking unique and memorable online experiences. These individuals actively research and book activities to enhance their travel adventures through various online channels.
The Challenge
The challenge was to leverage data, optimize internal linking, and improve user-experience to capture the attention of travelers and convert them into paying customers, establishing Headout as a leading player in the industry.
Our Way Forward
Driving Decisions with Data
Collecting Data
We utilized various keyword research tools and platforms to gather relevant and reliable data, identifying over 20,000 targeted keywords that would generate traffic and revenue. This comprehensive list formed the foundation of our SEO campaign.
Finding Trends
Analyzing keyword trends allowed us to identify patterns and changes in search behavior over time. By understanding seasonal variations and emerging search queries, we gained insights into the evolving preferences and interests of our target audience.
Gaining Insights
The analysis of keyword data and trends provided valuable insights into the search behavior of Headout's target audience. These insights helped us understand their needs, preferences, and intent, guiding our content and optimization strategies.
Testing
Through A/B tests, user engagement analysis, and keyword performance tracking, we evaluated the effectiveness of identified keywords and content strategies. This iterative testing phase allowed us to refine our approach and optimize for better results.
Deployment
Optimized web pages were created, targeting specific keywords and incorporating them into titles, headings, meta tags, and content. Rigorous testing ensured responsiveness and functionality across different devices and browsers before going live.
Strategic Categorization Approach
To effectively capture and convert our target audience, we implemented a strategic categorization approach aligned with the customer journey. This approach optimized different page types based on the stage of the funnel:
Blogs – Top of Funnel (TOFU)
Informative and engaging blog content attracted visitors in the early stages of their customer journey, driving traffic and capturing potential customers' attention.
Category Pages & Collection Pages – Middle of Funnel (MOFU)
In-depth information about specific types of experiences on category pages helped visitors narrow down their search, moving them closer to conversion.
Experience Pages – Bottom of Funnel (BOFU)
Designed for visitors ready to convert, experience pages provided detailed information about specific experiences and clear call-to-action prompts to encourage bookings, driving conversions and maximizing revenue.
Internal Links: The Secret Sauce
During our thorough competitor analysis, we discovered a significant opportunity: internal linking. Optimizing internal links had a substantial impact on Headout's website visibility and search engine rankings. By leveraging an innovative algorithm, we created contextual relationships through internal links at scale, enhancing the power of the website's internal pages.
Project Constraints 
During the initial audit, several key issues hindering Headout's SEO performance were identified. These included keyword and content cannibalization, incorrect crawl budget allocation, and an inefficient crawling strategy resulting in index bloating. Addressing these issues at scale became crucial for reclaiming lost traffic and driving revenue growth.
Implementation Strategy

Crawl Issue Resolution
Crawl issues and leakages were fixed, eliminating URLs pointing to non-existent pages and resolving duplicate anchors pointing to the same URL. 
Additionally, Hreflang issues were addressed to ensure proper regional targeting.
Cannibalization Resolution
Content and product page cannibalization were categorized and resolved through keyword segregation, content optimization techniques, canonicalization, no-index tags, and redirection strategies.
Internal Linking Optimization
The internal linking strategy was revamped by prioritizing pages based on search volume, keyword difficulty, offer count, and revenue generation. Careful analysis of search engine bots' crawling behavior increased average inlinks per page for the most important page cluster.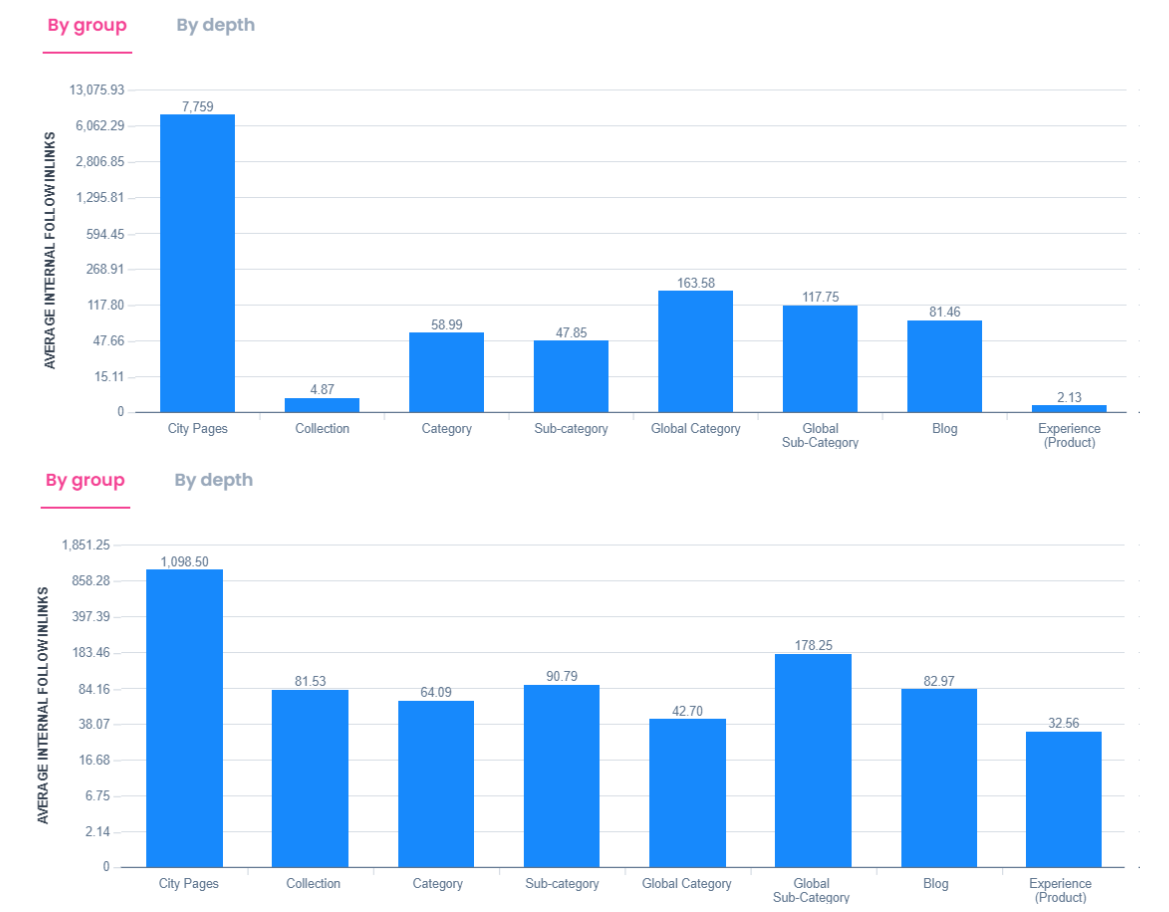 Conversion-Friendly Page Enhancements
Conversion-friendly pages were developed, optimizing revenue generated through organic traffic. 
Best practices and user experience data were leveraged to create seamless user journeys and persuasive elements to drive bookings.
Other Challenges Faced During Implementation Process
The implementation process presented several challenges, including identifying revenue-related problems associated with organic traffic, forecasting post-lockdown traffic surge in the uncertain travel industry, developing a complex internal linking algorithm, and overcoming initial deployment issues through continuous refinement and trial-and-error adjustments.
Results
From January 2022 to April 2023, the data-driven SEO campaign yielded remarkable results:
Increased Organic Sessions by 406.2%

Increased Organic Users by 394.0%

Increased Keywords Ranking in the Top 3 Positions by 49.5%

Increased Keywords Ranking between 4th and 10th Positions by 54%

Organic Revenue Increased by 1081.24%
Conclusion
The Botpresso and Headout data-driven campaign showcased the transformative power of strategic SEO initiatives in the travel niche. By leveraging data, addressing critical issues, optimizing content and internal linking, and prioritizing user experience, we not only exceeded our initial goals but also established a foundation for sustained success in the competitive travel industry. Headout now stands tall as a leading player, ready to fulfill the dreams of globetrotters worldwide.
This Campaign Was Shortlisted as the Finalist at the Global Search Awards 2023 in the Travel Category.
You can also read SaaS SEO Case study which we published on the website